April 24, 2015
This has to be the most distasteful piece I have ever read all through the past hour (I read many crazy stuffs like that every other minute), but this man has got so much effrontery to utter such arrogance statement in the public! worst of it all is he does not live in Nigeria and he happens to be a fully trained and qualified yoruba medical doctor! How sad! The  Texas, US based cardiologist, Adeniran Abraham Ariyo, allegedly called for the slaughter of Igbo people in Lagos, akin to the xenophobic attacks currently going on in South Africa.
Screenshot of his statement are below: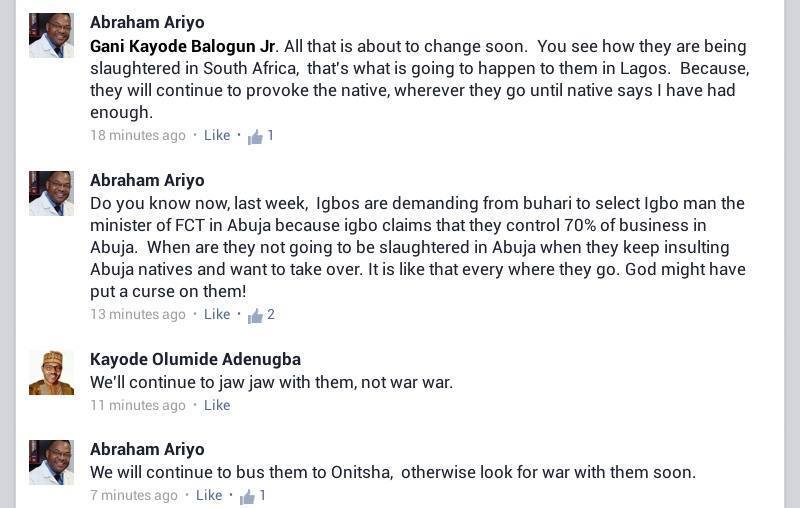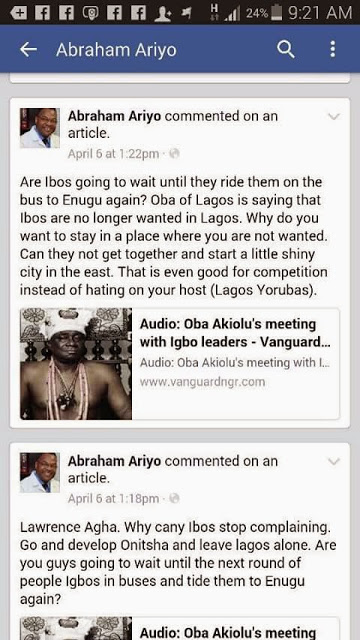 He has since deleted his social media accounts and details from online after sparking the fury of his followers, but not before some angry trolls were able to get photos of his family and details (we wont post it here because we still respect his privacy and family), but for sanity sake, we have decided to confirm his authenticity and we can authoritatively say he his truly a practising doctor in Dallas, Texas.
This is important because the massacre or extermination of any ethnic group is against UN law and of course the laws of United States. No ethnic group should ever have to be massacred due to hate for any reason whatsoever since there are legally accepted ways of dealing and settling differences. The world can not allow this to happen."
Source: Gist Mania