The African Business Association is a student-run organization of the George Washington University School of Business. We are dedicated to sharing information with the greater George Washington University community about the African business climate, exploring investment opportunities in Africa, and providing additional resources to African students and those with a general interest in Africa. We strive to connect thought leaders from around the world with the GWU School of Business community to share insights and perspectives about the opportunities in Africa. Our events are open to all members of the GWU community, professionals, academics and all those curious to learn more about Africa.
African Business Club – Harvard Business School
The Africa Business Club is dedicated to increasing the awareness within the HBS community of business opportunities on the African continent. Our activities are professional, educational and social in nature, and are open to all members of Harvard.
Asante Union Munich e.V. (Germany)
Africa Growth Initiative – Brookings Institution
The Africa Growth Initiative conducts high-quality policy research and analysis focused on attaining sustainable economic development and prosperity in Africa.
Africa Society of National Summit on Africa
The Africa Society is a national nonprofit, nonpartisan and diverse organization formed as a direct outgrowth of the National Summit on Africa, which launched in 1997 with grant support from the Ford Foundation and the Carnegie Corporation of New York. This initiative resulted in the largest mobilization of Africa-interested individuals in the history of the U.S., with delegations from every state and territory. After contemplating how best to meet the needs and demands of nearly 20,000 constituents, the Summit's Board of Directors and Secretariat voted to establish an organization devoted to educating Americans of all backgrounds, ages and statuses about the continent of Africa. To meet this goal, The Africa Society was launched in January 2002 at an event sponsored by one of its primary partners, Discovery Communications, LLC. Since, the Society has developed a wide range of educational programs targeting every age group and academic level.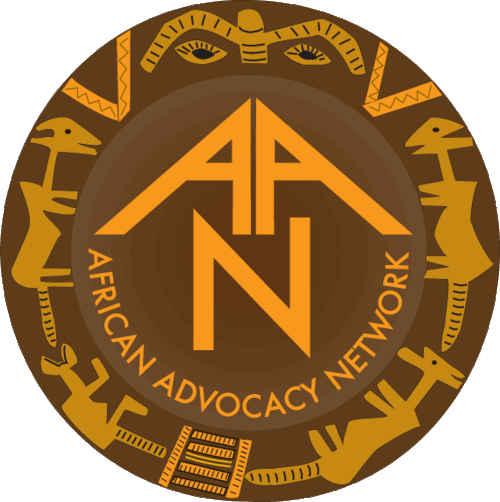 The AAN serves the growing Diaspora with community-based services focusing in legal assistance, employment counseling, housing guidance, psycho-social case management, and health education. AAN couples these programs with experienced and trained linguistic capacity in more than ten languages that span the African continent such as Amharic, Tigrinya, and Arabic to French, Wolof, Berber, Sonufu, and more.
Founded in 2003 by Dr. Rick Kittles and Gina Paige, African Ancestry is the world leader in tracing maternal and paternal lineages of African descent having helped more than 150,000 people re-connect with the roots of their family tree.
African Great Lakes Action Network (AGLAN)
African Chamber of Commerce (Dallas/Fort Worth)
The African Chamber of Commerce-DFW promotes trade, commerce, education, and cultural exchange between the United States and Nations of Africa.
African Chamber of Commerce of the Pacific Northwest
The African Chamber of Commerce of the Pacific Northwest (ACCPNW) is a membership based, non-profit organization. The mission of ACCPNW is to promote an environment of direct trade and business prosperity between Africa and the Northwest United States. ACCPNW provides also free business seminars to local minority business owners. The training courses range from the process of starting and sustaining a business to the techniques of effective business development.
African Cultural Exchange – Fordham University

African Development Center of Minnesota
African Diaspora Association of Canada
To provide a forum for Canadians of African descent to build a network of action-oriented individuals and groups in support of our communities in Africa, the Caribbean and Canada.
The Africa Diaspora Awards (ADA) ceremony is an event which celebrates, honours and recognises achievement from within the African Diaspora community.The Awards will be one of the most significant events within the African and broader diaspora community; it is anticipated that it will become a major annual event. A pioneering, unique and prestigious event, the African Diaspora Awards is an event which pays tribute to African success across all walks of life; emphasising achievement and highlighting inspirational role models in the fields of business, sport, entertainment, philanthropy and popular arts and culture.
African Diaspora Club – Towson University
The mission of the African Diaspora Club (ADC) at Towson University is to celebrate and positively portray diverse cultures of Africa, by encouraging and supporting academic excellence, building community, promoting networks, being engaged as global citizens and fostering life-long ties to continent. By doing this we are fostering growth, encouraging development and changing our continent one student at a time, one country at a time.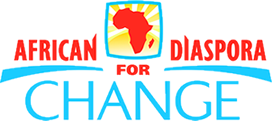 The mission of African Diaspora for Change (ADC) is to educate and empower the African immigrant and broader African Diaspora community through culture, dialogue and advocacy.
The African Diaspora Foundation is dedicated to developing peace centers, peace curricula, teachers, and to supporting outreach programs that promote peace, nonviolence and reconciliation in Africa and other parts of the world. Ultimately we strive to empower individuals to have a choice to choose peace instead of violence to build stable communities and progressive nations.
Launched in 2009 by the United States Agency for International Development (USAID) and Western Union, the African Diaspora Marketplace (ADM) aims to encourage sustainable economic growth and employment by supporting African diaspora entrepreneurs. ADM entrepreneurs are individuals with demonstrable connections to or experience in Africa, and who have innovative and high-impact start-ups or established businesses on the continent.
African Diaspora Network (ADN) is a registered 501(c)(3) organization that offers Africans and friends of Africa the opportunity to enhance their impact on the continent and grow professionally and personally. ADN promotes dialogue and action on social and economic development issues in Africa; we foster collaboration between individuals and groups interested in Africa's future in order to benefit indigenous Africans around the world.
African Diaspora Program – World Bank
ADP seeks to further enable and enhance the human and financial capital contributions of African Diasporas to the economic development of their home countries. The program was launched in September 2007 and focuses on strengthening policy, financial, and human capital development in Africa through a portfolio of activities and support in partnership with the African Union (AU), partner countries, partner donors, and African Diaspora Professional Networks and Hometown Associations.
African Mathematical Union / Mathematicians of the African Diaspora
Africare is one of the most experienced and largest African-American led non-profit international development organizations, and we are leaders in development assistance to Africa. Since our founding in 1970, Africare has delivered more than $1 billion in assistance to tens of millions of men, women and children across the African continent.
Alliance for Democracy in Africa
Alliance for Democracy in Africa (ADA) is a tax exempt nonprofit organization working to encourage Africans, particularly children and youth, to study, internalize and practice the values of democracy in their societies. The organization is not an affiliate of any political party, nor will it affiliate with any political party in Africa, or any other country.
Association of Concerned Ghanaians in Europe (ACGIE)
Ghanaians resident in Europe have submitted a Petition to the European Union asking the 27 member- organization to use its good offices to assist in the speedy adjudication of the election petition pending before the Supreme Court of Ghana.
Association of Ghanaian Lawyers of America
Association of Tanzanian Natives in Dallas
The Association of Tanzanian Natives in Dallas was formerly established in March of 2009 with a two-fold purpose; to serve as a voice for the growing Tanzanian Diaspora in Dallas, Texas, within the social settings of the city, state and the country at large, to create an atmosphere of unity in times of rejoicing and in times of hardship among all members of the Community.  We stand strong, poised and determined to excel in the essence of life, including education, culture and entrepreneurship.
Association of Tanzanian Women in Diaspora
Africa-Europe Platform Partner Organization
As African Diaspora organisations seek an adequate framework to engage migration and development stakeholders, the European Commission in cooperation with the Swiss SDC, the Dutch MFA and the German GIZ have facilitated the Africa-Europe Platform's creation as part of the European-wide African Diaspora Platform for Development (EADPD) Project.
African Diaspora Policy Centre (Netherlands)
The African Diaspora Policy Centre (ADPC) is a leading African diaspora think tank in Europe in the field of migration and development. It is particularly devoted to the study of the nexus between migration and development related issues from the perspective of the diaspora.
African Diaspora Youth Network in Europe (ADYNE)
African Foundation for Development (AFFORD) (UK)
Here at AFFORD we pride ourselves in the way we work and how we achieve results – organisationally and through our interactions with local SMEs. We hope our work will be a legacy for young Africans who want to engage with their continent and participate in projects and programmes that sit at the core of our work.
African Studies Association of the UK
Afro-Europe International Blog 
Afro-Shanghai: The African Community in Shanghai and China
Akwa Ibom Foundation
(Atlanta)
751 N. Indian Creek Dr, 226
Clarkson, GA 30021
Akwa Ibom State Assoc.
P.O. Box 91226
Washington, DC 20011
Akwa Ibom State Assoc.
P.O. Box 409122
Chicago, IL 60640
Akwa Ibom State Assoc.
of Nigeria U.S.A.
15600 NS 7th Avenue, 704
Miami, FL 33169
All Ngwa Cultural Assoc.
6218 Georgia Avenue, NW
Washington, DC 20011
Anambra State Assoc. of  NJ
85 John Street
Metuchen, NJK 08840
Anambra  Progress. Union
9925 211th Street
Queens Village, NY 11429
Anambra-Enugu Association.
of New Jersey
P.O. Box 1237
Newark, NJ 07101
Anioma Assoc. of Nigeria
P.O. Box 998
Adelphi, MD 20783
Anioma Cultural Union
1721 Grand Avenue, 1-K
Bronx, NY 10453
Tel: (718) 731-8546
Arkansas Association
of Nigerians
P.O. Box 1925
Little Rock, AR 72203
Tel: (501) 664-0900
Asaba Cultural Union
Tri-State Area
10031 4th Avenue, 2-D
Bayridge, NY 11209
Asaba Progressive Union
1806 Summerview Drive
Stone Mountain, GA 30083
Assoc. of Nigerian Architects and Engineers
350 5th Avenue, Ste. 3304
New York, NY 10118
Assembly of Nigerian Nationals
654 Girard Street, NW, 512
Washington, DC 2000kj1
Assoc. for the Progress of Advancement of Nigerians
P.O. Box 5057
Chicago, IL 60680
Assoc. des Senegalese d'Amerique
6 West Broadway, 5th
New York, NY 10001
Assoc. of Senegalese
16314 Seter Street
Missorion City, TX 77489
Association of Nigeria
P.O. Box 720632
Oklahoma City, OK 73172
Association of Nigerian-Americans
P.O. Box 30171
Omaha, NE 68131
Association of Nigerian Engineers in Minnesota
P.O. Box 582404
Minneapolis, MN 55458
Assoc. of Nigerians for Unity and Progress
9837 Three Lakes Circle
Boca Raton, FL 33428
Association of Nigerians in CT
P.O. Box 26465
West Haven, CT 06516
Assoc. of Nigerians in MI
16603 Plymouth Road
Detroit, MI 48227
Assoc. of Nigerians in New Orleans
P.O. Box 58518
New Orleans, LA 70158
Assoc. of Students -Citizens of Akwa Ibom State in U.S.
P.O. Box 41983
Philadelphia, PA 19104
Applause Africa Communications is an innovative media brand for the progressive African in Diaspora, with a strong editorial focus on the people, innovations, cultures, businesses, leadership, philosophies and successes of Diaspora Africa. Applause Africa magazine and applauseafrica.com inspire our readers to think beyond traditional boundaries, lead conversations, and create the future for a better Africa by celebrating, empowering and connecting Africans in the Diaspora and on the continent. Applause Africa magazine inspires a new generation of thought leaders, committed to active engagement to shape, demystify and expose the true beauty and potential of the continent, Africa.
Association for the Advancement of Africa
The Association for the Advancement of Africa is a U.S.-based, non-profit, and nonpartisan organization. It is the intent of this organization to help first-generation Africans assimilate into American society while aiming at strengthening and enhancing the fundamental relationship between Africans of the Diaspora and Africa.
Association of Congolese Community in Los Angeles
1531 N. Fuller Avenue, 20
West Hollywood, CA 90046
Tel: (323) 874-0193
Association of Kenyans in Utah
To promote activities which enhance the Growth and
Advancement of Education, Culture, Human Services and Healthcare"
Association of Nigerian Physicians Abroad
ANPA represents the professional, political and social interests of 4,000 plus physicians, dentists and allied health professionals of Nigerian birth, ethnicity or empathy in the United States, Canada and the Caribbean providing a platform for medical, scientific, political and social dialogue on issues of health within North America, the Caribbean, and Africa, pertinent to persons of descent from the Nigerian Diaspora.
Association Of Nigerian Women Academic Doctors, Inc.
The Association of Nigerian Women Academic Doctors, Inc., Inc. is a professional and non-profit organization of doctoral degree holders of Nigerian descent residing in Nigeria and abroad. The Association of Nigerian Women Academic Doctors, Inc. was incorporated in August 2011 for educational enhancement, research and development, charitable, and social purposes as a tax-exempt non-profit organization under Section 501(c) (3) of the Internal Revenue Code. Association of Nigerian Women Academic Doctors, Inc. as a professional, non- governmental organization (NGO) targets to: bring knowledge to the uneducated women sector in Nigeria, access the educational needy areas, reach out to the less privileged, bridge the gap between the number of educated men and women, intellectually empower women through seminars, workshops, and conferences, educate women through other enlightenment programs like enlightenment campaigns, and elevate well educated women, future mothers of our children and global leaders for tomorrow.
Association of Nigerians in Belgium
Nigeria is considered as the Giant of Africa; a country in all respects blessed with tremendous cultural diversity, abundance human resources and wealth. The Association of Nigerians, Belgium is a collection of these traits.
Association of Nigerians in the Capital District of the State of New York
Alliance of Nigerian Organizations in Georgia (USA) 
Association for the Study of the Worldwide African Diaspora (ASWAD) – New York University
African Community Resource Center
Provide the general African Society with access to the following:
Legal resident assistance information
College preparation program
Support with college process for the youth
Mentoring the youth tutoring and counseling
Adults computer education class.
Address :532 S. Vermont Avenue, 104
Los Angeles, CA 90020
Tel: (213) 367-1450
ALGERIA
Algeria British Business Council
Bespoke business intelligence and advice from expert, professional teams to address the specific needs of your business.
Algerian American Association of Greater Washington
Algerian-American Association of Northern California
Algerian American Scientists Association
AASA's vision is to build a network of Algerian-American Scientists and health care specialists in the U.S. in order to promote the advancement and growth of young professionals. This network will facilitate the flow of people (scientists and students), knowledge and technology; and help link academic institutions in the two countries. Moreover, AASA's goal is to participate in health awareness and care in joint partnership with Algerian institutions.
The mission of the Algerian British Association is to help the Algerian community in the UK to get together to foster cultural links between the British community, to help support the Algerian community and promote Algerian arts, culture and traditions. Also develop cultural and educational activities to benefit the British Algerian community as a whole.
Algerian Cultural Festival – London
Algerian International Diaspora Association
he National Algerian Centre ('NAC') C.I.C. is a social enterprise run on a "not-for-profit" basis. We provide guided-support, training and services of all levels under four main axes: Study Courses & Workshops, Corporate Training, Travel & Tourism and Catering & Events.
Association of . Angolan People in U.S.
4846 North Lawrence
Philadelphia, PA 19120
Angolan Communities Conference, U.S.A.
Angolan Community in London (UK)
Angolan Women for Leadership Association in UK
Angolan Women for Leadership Association in UK(AWLAUK) is a non-profit organization that is run almost entirely by volunteers. We engage in outdoor activities in the Coventy area where women share skill, experience, strenghts and ideas. We welcome women of diverse country, religions, ages, race and lifestyle.
Angolan Women's Association (UMARU) (UK)
UMARU was initially formed to helping the integration of Angolan women into British Society. We also aim at helping in the promotion of Angolan women by elevating their education, cultural level and improving their general skills; promoting and strengthening the understanding of Angolan culture, heritage and solidarity amongst Angolan women and promoting awareness through discussion of issues affecting Angolan women and women worldwide. UMARU wants to be an adequate forum for exchanging experiences, discussing ideas, learning a little more about each other and sharing difficult and happy times. UMARU also wants to provide a perfect forum by keeping in touch with our country, sharing our hopes, and identities and bringing together different generations.
Amigos das Criancas
30 Wendover Street
Dorchester, MA 02125
AMwA was founded to create space for African women to organise, build links with each other and speak for themselves. Since then, it has become one of the most recognised international development NGOs led by African women and run for African women, both on the continent and Europe. The organisation was founded and operates on the premise that African women have a key role to play in their own development and the shaping of their own destinies. In response to challenges faced by African women both on the continent and elsewhere.
Association of Zambians in California
Amigos de Boa Vista
93 Hall Street
East Providence, RI 02914
Amigos dos Concelhodos Mosteiros
142 Adams Street
Dorchester, MA 02125
Arquipelago
915 Dorchester Avenue, 507
Dorchester, MA 02125
Assoc. Caboverdianae Brockton
100/102 Main Street
Brockton, MA 02403
Tel: (508) 559-0056
Akuapem-Mma Fekuw
Association
14105 Jerimiah Lane,
Bowie, MD   20721
Tel. (301) 390-5145
Amunyeh Assoc.
534 North 56th Street
Philadelphia, PA 19139
Asante Kotoko Association.
13946 Marbleston Drive
Clifton, VA   90124
Tel. (703) 802-0032
Asanteman Kuo
8660 Welbeck Way
Gaithersburg, MD  20897
Tel. (301) 670-9467
Assoc. of South California
P.O. Box 875189
Los Angeles, CA  90087
Tel./Fax (310) 675 6890
Assoc. of Moroccans in United States
P.O. Box 33028
Washington, DC 20033
Tel: (202) 462-7979 Ext. 47