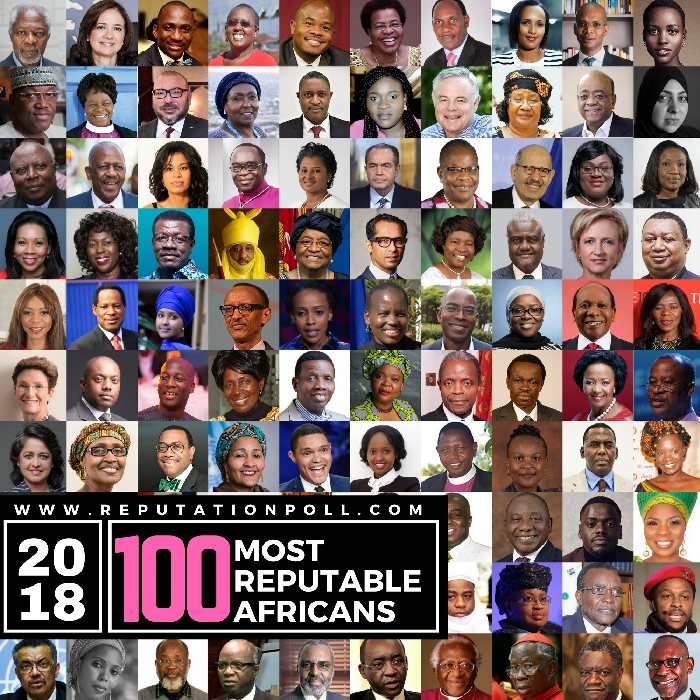 Martin Amidu named amongst 100 Most Reputable Africans
 Martin Amidu Ghana's Special Prosecutor has been named amongst 2018 100 Most Reputable Africans released by the Leading Global Reputation-Management Consulting Company, Reputation Poll.
This is the first time Ghana's Special Prosecutor Martin Amidu has made it to the list of 100 Most Reputable Africans which is released annually.
The list features individuals from diverse sectors including Leadership, Entertainment, Advocacy, Education and Business has representation from 33 African Countries with 55 males and 45 females.
The list of 100 Africans has Nigeria leading with 21 individuals with South Africa, Kenya, and Ghana following respectively.
Some prominent personalities who made the list include Rwanda's Paul Kagame, Nigeria's Prof Yemi Osibanjo, South Africa's Cyril Ramaphosa, and Mauritius's Ameenah Gurib.
ALSO READ: Martin Amidu sworn in as Special Prosecutor
The list also features 3 African Presidents, 2 Vice Presidents, 2 former Presidents, a former Vice President, a First lady, Members of Parliament and Ministers from the governance sector.
In Business; Strive Masiyiwa, Koos Bekker, Barclays Bank's Patience Akyianu and Wendy Lucas Bull are represented for their works across Africa.
For their fight against corruption are Ghana's special Prosecutor, Martin Amidu and South Africa's Public Prosecutor, Busisiwe Mkhwebane.
9 Ghanaians who made the list include; Martin Amidu, Dr. Mensah Otabil, Kofi Annan, Dr Ken Kwaku, Yaw Nsarkoh, Anas Aremeyaw Anas, Patrick Awuah, Patience Akyianu and Fred Swaniker.
Martin Amidu named amongst 100 Most Reputable Africans
Meanwhile, on February 23, 2018, Ghana's first Special Prosecutor Martin Amidu has sworn in after the Parliament of Ghana approved of his nomination.
Purpose of the Special Prosecutor's Office
The Special Prosecutor is a specialized agency to investigate specific cases of corruption involving public officers, and politically exposed persons in the performance of their functions as well as individuals in the private sector implicated in the commission of corruption and prosecute these offences on the authority of the Attorney-General.
The office is independent of the Executive, which observers believe will allow it to adequately deal with corruption-related issues which have plagued past governments.
It is mandated to investigate and prosecute cases of alleged corruption under the Public Procurement Act 203 Act 63 and other corruption-related offences implicating public officers, political office holders and their accomplices in the public sector.
The Prosecutor will also be mandated to trace and recover the proceeds of corruption.
 primenewsghana.com/general-news.html