February 10, 2015
ABUJA — National Security Adviser, Col. Sambo Dasuki (retd) vowed, yesterday, that Boko Haram will be crushed within six weeks.
The terrorists, on their part, opened a new war front in Niger Republic with its leader dismissing the threat from the regional force.
Security chiefs had warned that security could not be guaranteed for the elections originally scheduled for this weekend and needed six weeks to flush out Boko Haram terrorists from the 14 local government areas in the North-East states before elections could hold. This forced postponement of the elections throughout the country till March 28.
Speaking, yesterday, Col. Dasuki assured that the new election dates of March 28 and April 11 will not be shifted as "all known Boko Haram camps will be taken out" within six weeks
"They won't be there. They will be dismantled," he told AFP in an interview when asked what gains could be made against the Islamists before the new polling date of March 28.
Dasuki said that Nigeria had been unable to defeat Boko Haram as it had been "fighting it alone for years, with all the limitations in terms of equipment and support.
"Now we are having support. We are having additional troops. We are having additional equipment coming in. We are better equipped and better placed now to take on that thing than we were before."
But Dasuki said that even if the goal was not achieved, "the situation then would surely be conducive enough for elections," with no need for a further postponement of voting.
New polls dates'll not be shifted again
"Those dates will not be shifted again," Dasuki said when asked if the polls, initially scheduled for February 14, could be pushed back further.
Dasuki had urged election officials to postpone the vote on the grounds that the military could not provide nationwide election security because all available resources were being deployed to the North-East to fight Boko Haram.
In the interview, Dasuki suggested that the reason for the delay was the need to assure safe voting in the north-east states of Adamawa, Borno and Yobe where Boko Haram is most active and controls significant territory.
Dasuki insisted there was no political motive underlying his call for a delay, saying: "It's not everybody who does things for selfish reasons. Some of us have a conscience."
He said the postponement could easily help the opposition All Progressives Congress, APC, because improved security could boost turnout in the northeast, an APC stronghold.
Boko Haram dismisses threat from regional forces in new video
Meanwhile, Boko Haram has released three new videos on YouTube, yesterday, one of them a 28-minute speech from its leader, Abubakar Shekau, in an undisclosed location flanked by eight masked fighters.
In it, he dismissed the threat from regional forces, stating: "Your alliance will not achieve anything. Amass all your weapons and face us. We welcome you."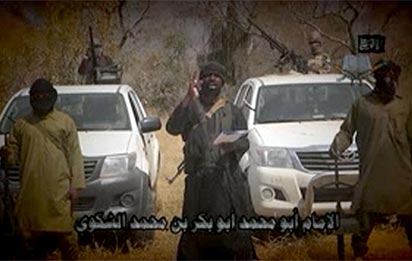 On Saturday, Nigeria and its neighbours — Chad, Niger, Cameroon and Benin — agreed to muster 8,700 troops, police and civilians for a wider, African Union-backed force against Boko Haram.
The size of the new force had previously been set at about 7,500 but Shekau, whom the United States estimates as having between 4,000 and 6,000 fighters at his disposal, dismissed the threat.
"You send 7,000 troops? Why don't you send seven million? This is small. Only 7,000? By Allah, it is small. We can seize them one-by-one. We can seize them one-by-one," he said in Arabic.
Shekau also directly threatened Chad's President Idriss Deby, whose forces have attacked Boko Haram in the northeast Nigerian towns of Gamboru and Malam Fatori in recent days.
Shekau's challenge came after the United States said on Friday that Boko Haram could face a stronger test against more capable regional forces.
Washington estimates that Boko Haram has a core of between 4,000 and 6,000 fighters and is well-equipped after raiding Nigerian Army positions.
Shekau's speech appeared to put the Boko Haram insurgency in the wider context of global jihad, possibly in response to the regional nature of the conflict.
One of the three latest videos shows Baghdadi with archive footage and a voiceover recalling a battle between British soldiers and fighters from the Sokoto Caliphate in northern Nigeria.
We rose up to fight the world—Shekau
In his speech, Shekau appears to broaden the group's aim: "We never rose up to fight Africa. We rose up to fight the world. We are going to fight the world on the principle that whoever doesn't obey Allah and the Prophet either dies or becomes a slave."
…Opens new war front in Niger Republic
Boko Haram fighters also, yesterday, launched a new attack in Niger Republic as parliament in Niamey was set to vote on joining a regional force against the Islamists.
The insurgents raided a prison in the southeastern border town of Diffa, which they first attacked on Friday, but were repelled after a heavy exchange of fire, humanitarian sources said.
"The attack failed. The assailants were quite easily pushed back," one source told AFP.
Niger's parliament was expected, yesterday, to support a proposal to deploy troops inside Nigeria to help in the battle, along with soldiers from Chad, which has a battle-hardened army, and Cameroon.
No casualty toll was immediately available after the raid by Boko Haram, which has widened a deadly six-year insurgency in Nigeria with attacks in neighbouring countries.
A journalist in Diffa said he saw the bodies of Boko Haram fighters in a hearse but was unable to count them.
Some Boko Haram fighters sought to hide out in the town.
"The soldiers are looking for them, weapons at the ready. The army has encircled Diffa," the journalist said.
Another journalist said some of the fighters were being held in the prison they attacked.
Niger's Defence Minister Mahamadou Karidjo said Sunday that he hoped for a favourable parliamentary vote to "bring the final blow against the forces of evil. The boys are chomping at the bit to go to fight Boko Haram," he said on public television.
According to him, "the defensive position our forces have held for more than three months is not a good position. We shall eradicate the Boko Haram plague in the region."
Niger said 109 jihadists were killed during an attack last week on Diffa and a simultaneous assault on Bosso, also close to the border, the first by Boko Haram in the country.
Four soldiers and a civilian were killed and 17 other troops were wounded.
In the last six years, the group has mainly operated in three states in northeast Nigeria, taking over a succession of towns and villages as part of its aim to create a hardline Islamic state.
It is thought to have few direct, operational links to jihadi groups elsewhere, although it is believed to include some foreign fighters, most likely paid mercenaries.
But Shekau has mentioned groups such as Al-Qaeda in the Islamic Maghreb (AQIM) and the leader of the so-called Islamic State group in Syria and Iraq, Abu Bakr al-Baghdadi.
Source: Vanguard NG