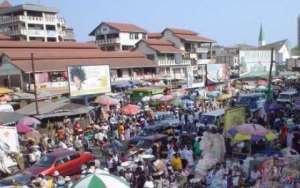 While trade relations between the U.S. and China have descended into a relay of tariffs and counter-tariffs, developments to reform trade on the African continent are telling a very different story.
"If you start looking much more inwards, and focus within your little population of 40 or 50 million, you lose sight of the big picture," Adan Mohamed, Kenyan minister of industry, trade and co-operatives told CNBC.
Mohamed was referring to a free trade agreement ranging across the African continent that is in the process of being implemented by the African Union. If put into practice, it would form the largest trade bloc in terms of participating member states since the formation of the World Trade Organization (WTO). So far, 44 of the African Union's 55 members have signed on.
"So, we really are saying to people within the continent that often see this through the lens of, 'What would this do for us?' and say what scale and opportunity that this could do for Africa as a continent," Mohamed told an audience at the Commonwealth Business Forum in London.
He agreed that this situation provided a counterpoint to the tit-for-tat trade tariffs recently imposed by the U.S. and China.
Mohamed explained why union was so crucial to Africa. "The biggest opportunity for Africa today is a lack of inward investments that are supposed to be flowing into Africa," he said. "There is no Africa — there is Kenya, there is Nigeria, there is South Africa. Each of these countries on their own are not substantial markets in their own right."
It is hoped that the African free trade agreement will increase business between countries on the continent, which currently stands at less than 20 percent. The agreement is touted by the African Union as encompassing a market of 1.2 billion people, and a gross domestic product of $2.5 trillion.
Mohamed said that the deal would boost intra-African trade. "We're also having to dismantle the legacies of the colonial approach where traditional trade routes have been between the former colonial master and a specific African country."
"We believe that we are used as a consumer market of products that are manufactured elsewhere," he added.
But, two of the largest and most developed economies in Africa, Nigeria and South Africa, are yet to fully sign up to the deal. The governments are concerned about job security and cheap Chinese goods flooding the market due to decreased intra-continental trade barriers.
"I think it is fair to say that a significant agreement of this nature would rattle many people," Mohamed said. South African President Cyril Ramaphosa only signed a precursor to the deal in March, citing the need to consult domestic bodies first. "Anybody else who has issues… I think should be given the opportunity to go through that process," Mohamed said.
The idea of a common African currency has also been discussed as part of greater trade integration.
"It will be very difficult to implement, and it's an aspirational goal to have," Mohamed said, adding that "it is not a uniquely African issue" but part of any international trade network.