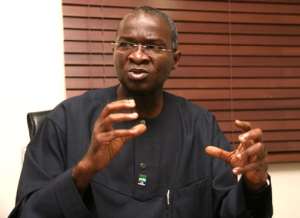 By Desmond Davies, GNA London Bureau Chief
London, Sept. 21, GNA – The Power Nigeria Exhibition and Conference to take place in Lagos from September 25 to 27, is to look at how Africa can tackle its power shortage.
Delegates would discuss mini-grids, mini grids initiatives, smart metres, solar projects and the implementation of blockchain within the power sector in a bid to provide power to a continent where some 600 million people do not have access to electricity.
As the race to improve the situation continues, African countries are looking at alternative means of generating power.
Earlier this year, Nigeria's Minister for Power, Works and Housing, Babatunde Fashola, said: 'Africans have trillions standard cubic feet of natural gas reserves, billions of barrels of crude oil reserves and billions of tons of coal; but Africa has even greater abundance of renewal energy resources.
'Unfortunately, of the nearly 1.5 billion people estimated to lack electricity supply the world over, half live in Africa.
'Nigeria alone is estimated to have over 90 million people living without electricity supply according to the World Bank,' Mr Fashola added.
To deal with this challenge, the Nigerian government has announced that it would start producing electricity using coal.
The aim is to see coal-powered plant contribute its portion to the projected 30 per cent power mix in Nigeria by 2030, which will cost about US$3.5 billion a year.
President Muhammadu Buhari's government, worried about the perennial destruction of oil pipelines that has been aggravating power shortages in the country, wants to turn to coal to provide electricity.
The lack of power in the country has added to the operating costs of businesses that have to run generators in order to get constant electricity.
The move by the Nigerian government to turn to coal to produce power is being welcomed by businesses that pay a fortune to buy diesel for their generators.
Nigerian businessman Dikanna Chika Okafor told the Wall Street Journal earlier this month that his Chicason Group was spending up to US$300,000 a month, making it difficult for the company to plan ahead.
'At this juncture what we would like to have is stable power [and] maybe later along the line we can look at the environmental effects and going greener,' said Mr Okafor, the Executive Director of the Company, which employs 2,000 workers.
According to official figures, Nigeria has some two billion tons of coal reserves that the government is looking to exploit to drive the country's economic growth.
'Contrary to what many people think, coal is still the number one provider of electricity around the world and this should be good for Nigeria, if the government can ensure clean production of the fossil fuel,' an energy consultant in London told the Ghana News Agency (GNA).
Although developing countries are keen to harness coal, they have to deal with opposition from climate change activists.
Mr Fashola, however said: 'I think it's simplistic to begin to separate renewable energy from fossil fuel.
'What the world really needs is to achieve a balance.'
The London-based World Coal Organisation has been having a series of discussions with a range of stakeholders for high-level discussion on coal and its relevance to the UN's Sustainable Development Goals (SDGs).
The first one was held in London in March and the most recent took place in Johannesburg in July.
The process 'aims to define a pathway for coal and the coal industry to support the achievement of the SDGs and will help to inform a potential mapping exercise in 2019'.
Throughout the discussion in South Africa, many participants made clear the important role played by coal across southern Africa.
They noted that coal had a positive impact on economic development, through job creation and in its role as an energy source, export revenue earner, an industrial input and in liquid fuel production.
Coal mining employs directly and indirectly around 200,000 people across South Africa.
'The importance of coal to economic development has implications for its contribution to the SDGs and shapes specific regional issues that should be considered,' the WCA noted.
These issues are expected to be followed up at Power Nigeria as the race to increase access to electricity in Africa continued.
GNA